Ah, 2020. I had such grand plans for you. A laundry room update. A backyard makeover. The powder room redo. And which of these things did I complete?
Zip. Zilch. Nadda. Sigh.
But it's a new year. And all of those things still need to be done.
So we begin fresh!
Two projects we're anxious to get done are the powder room and the backyard. Like most people, I've spent a LOT of time at home in 2020. I'm fortunate to be able to work from home and my day job keeps me busy. But if you ever want to know what areas are lacking in your home, spend an entire year there.
You may remember this mood board for our powder room:
I did order the samples of the wallpaper from Spoonflower. I really thought I was going to lean towards the green. Yikes, huge no!! I'm really glad I got a sample. The Blue Palm is a no go too. We ultimately went with a crisp white board and batten, like this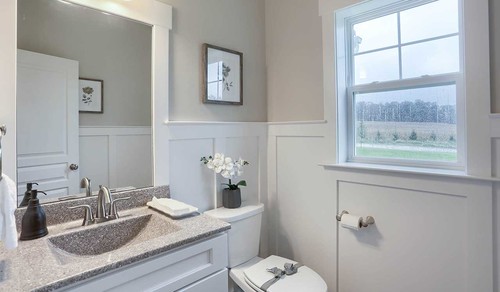 So I really like the chair height board and batten in this inspiration, which is the same style we did in our dining room a couple of years ago. So that's what we did (yep, all done!) And I thought I wanted wallpaper above it. But here's the thing. Eventually, I'll get tired of the print. So I skipped the wallpaper in favor of this dark blue moody color from Behr called Deep Indigo:
This is one of those colors that's hard to judge by the swatch. It's really pretty next to the pure white paint on the board and batten and I really love how it turned out (however, not such a fan of needing to re-paint the ceiling that got bumped with this dark color though!!)
So with the board and batten done and the paint up, the next major step is the vanity. I've said it a hundred times at this point, Vanity's are too expensive. Seriously. I don't get it. So when I fond this vanity top on clearance at Home Depot in September, I jumped on it:
This vanity usually is $263 at Home Depot. But they had one on clearance for $69. It's 31" wide (I'm limited to 33"!) and is SO much better than the builder's grade clam shell sink we initially had, or the $99 special, particleboard vanity we bought to use while we were remodeling the upstairs bathroom. So we have a vanity build on the books to get this step finished and it needs to be sooner than later! The downstairs powder room actually sees quite a bit of use since its the only bathroom downstairs.
This brings me to my next issue. Initially, I clearly had a tropical theme in mind, with the palm leaf wall paper and bamboo framed mirror. Not only does this not fit the vibe of the decor now, but I also already bought a mirror on clearance that doesn't match ANY of the decor items on my mood board. So expect an updated mood board soon!!